Bellevue v. Sammamish HS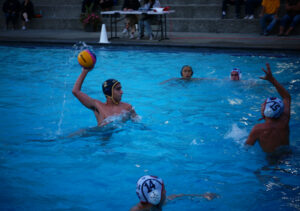 Sept. 13 Bellevue matched up against Sammamish High in what proved to be the most competitive match so far for Bellevue even though Sammamish won 20 – 11.  Sammamish is the roost for one of the top waterpolo players in the nation, Austin Quick, who was selected for the American Junior National team and is also headed for UC Davis where he will play D-1 polo.  This young man can swim, shoot, defend and rally his teammates.  In addition to the aptly named Mr. Quick, Sammamish also has another two or three full time club players on the roster.  Bellevue, was psyched, yet also fearful of what they were in for from Quick and his team.  Nevertheless, in the presence of the obvious flex from Sammamish, Bellevue rose to the occasion by giving Sammamish a very competitive match at the start.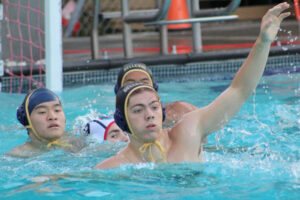 Before the first whistle of the match, and right before the opening sprint, fear and loathing reigned; Bellevue feared Sammamish and loathed the idea of losing.  After Bellevue won the sprint, our boys settled into their happy place with Bellevue teammates Michael Masters and Justin Wu quickly putting up two goals and Frazer adding a third. Unfortunately, the unstoppable Mr. Quick had put in four quick goals, all from beyond the perimeter in the first quarter as well.  Leaving Q-1, Team Bellevue – 3, Mr. Quick – 4.  Nevertheless, Bellevue optimism and high spirits prevailed.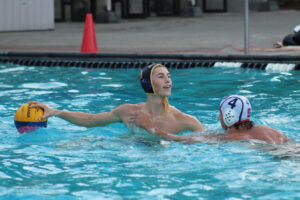 Going into this match, Bellevue not only surprised themselves with their early success, but also surprised their worthy opponent, Sammamish.  By the end of the second quarter, Bellevue saw goals from Jeremy Li (2) and Tom Jamilov.  Sammamish, however, had added 8 goals (5 from Quick and three from his teammates) bringing the score to 9 – 6 in favor of Sammamish.  Glory was slipping away from Bellevue, in spite of the fact that Bellevue's men were all playing well and taking good shots against their toughest opponent yet.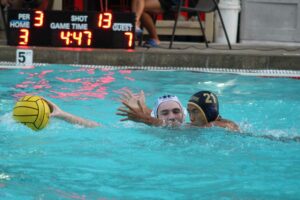 In quarter three, Michael Masters and Sujaay Kumar each scored a goal and Bellevue managed to keep up the tempo, but because of Quick's high-frequency-high-velocity shots from outside the perimeter the score had gone lopsided, Sammamish 17 to Bellevue's 8.  During the 4th quarter we witnessed a Aidric George ripping a clothesline shot on goal from outside the 5 meter, the shot was unsuccessful, but we sure want to see more of this kind of effort.  Through the fourth quarter Aidric George and Bob Frazer held Mr. Quick to only two goals.  leaving us with a final score of 20 – 11.