Bellevue Water Polo players have played at the college level in many of the nation's most prestigious schools, including Harvard, Stanford, Santa Clara University, The Claremont Colleges, United States Naval Academy, Occidental College, University of Washington and countless others. They have established a tradition of returning to Bellevue as coaches to share their knowledge and lead by example.
Introducing Bellevue Men's Water Polo Head Coaches for  2023,
Head Coach, Jenna Frazer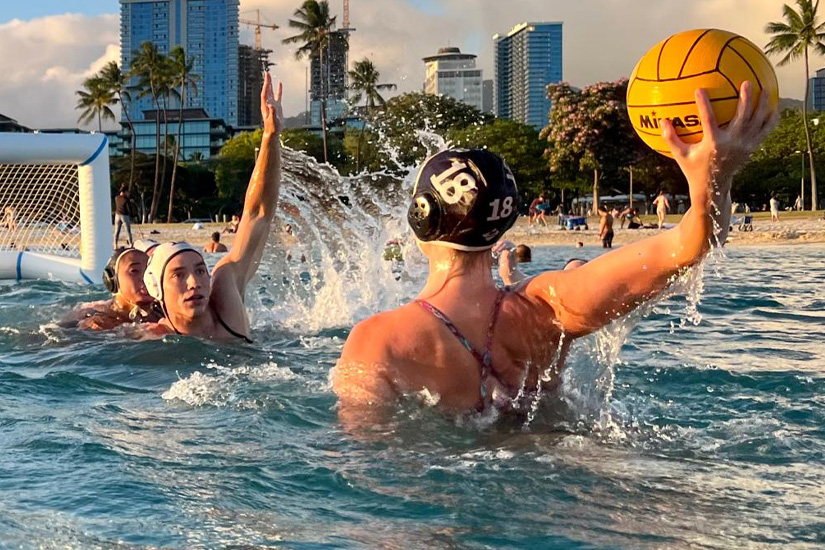 Hello! I'm Bellevue's newest head water polo coach. I'm really looking forward to the upcoming season working with each athlete. Before I get to know you and your families, here is some information about me! 
I began playing water polo at 12 or 13 during Midlakes, and since then I haven't stopped. I played at a highly competitive level of club water polo for six years for multiple different programs including: (RCWP, NWPC, Narrows Water Polo, and UW Women's water polo club). I competed in Junior Olympics six times. I tried out and was selected for the PNW Olympic Development team three times. Concurrent with club polo, I played for Bellevue High for all four years.  In high school I was named team defensive MVP twice; WA state defensive MVP, and was a captain my senior year. Last year, I had the privilege of spending a summer playing Master's Water Polo in Honolulu on a club team. Now, as a 2023 graduate from Marist College, I continue to play Water Polo on Master's Polo clubs in the Seattle area.  
Ali Goldsmith, Head Coach of Junior Varsity and Assistant Coach Boy's Waterpolo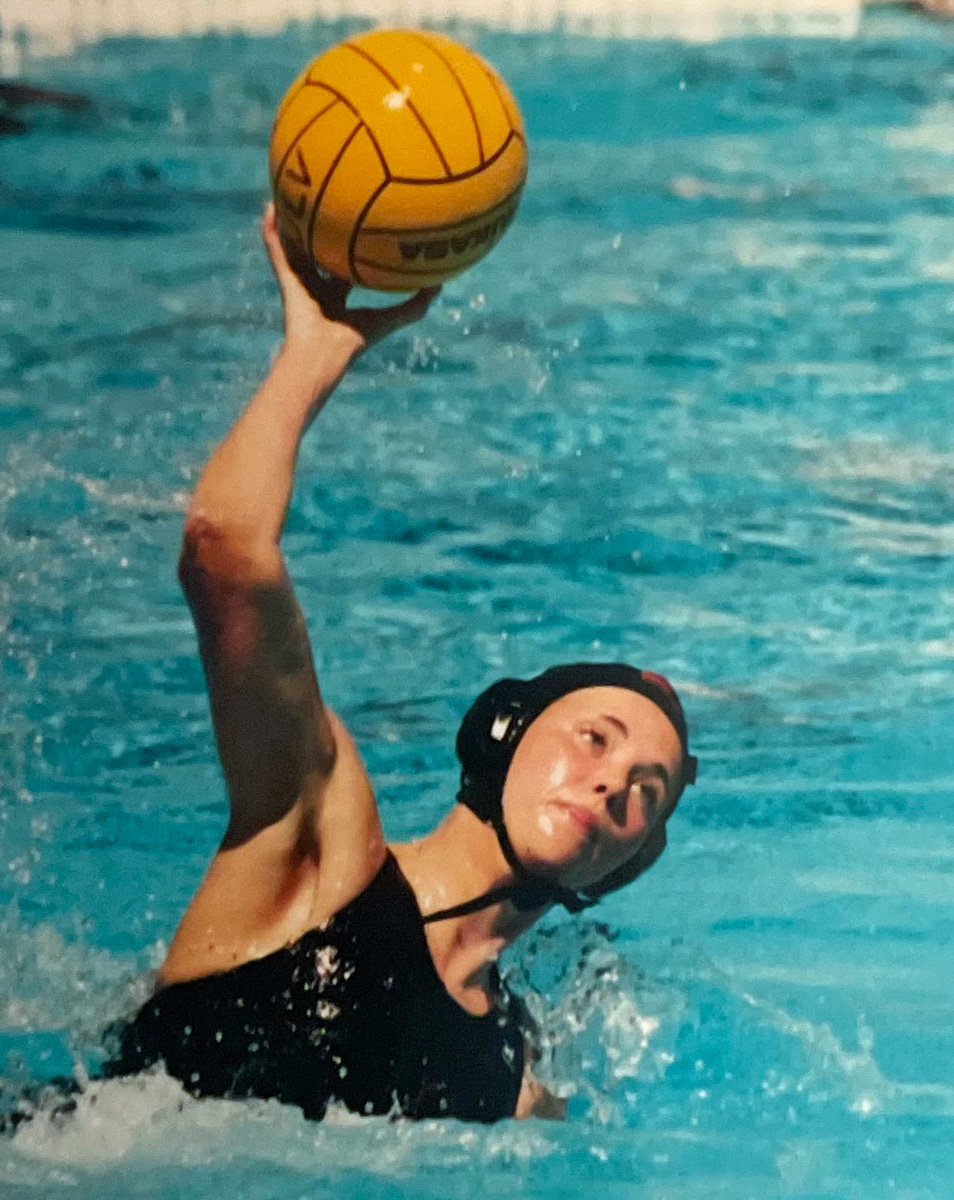 Ali Goldsmith has joined the Bellevue Water Polo coaching staff as assistant coach for the 2023 Boy's season. Ali earned All American status and all SCIAC player while playing for Occidental College in Los Angeles.  During her tenure at Occidental, Ali helped bring home Oxy's first  National Championship. Most recently, summer of 2023,  Ali coached 10u and 12u teams at Northwest Water Polo and took a 10u team to the Junior Olympics.  Ali has 3 kids, all in the Bellevue School district and all are Water Polo players. Her husband Matt is a teacher by profession and loves all sports but has joined the rest of the family as an avid Water Polo supporter and enthusiast, recently becoming a USAWP 
Alyssa Woodliff – Girls Assistant Coach
Alyssa comes from a background of water polo and swimming. She coached the Rain City Girls Water Polo Club team for the 2019 year round season, primarily focused on offense.
Alyssa grew up in Utah, where she played water polo and swam throughout age group and high school. She went on to swim and play water polo at Sierra College. After a successful two years at the community college and a state championship win in the 200 freestyle, she received a swimming scholarship to the D1 University of Hawaii at Manoa. After a coaching switch up, she transferred colleges to the University of Utah to their D1 swim team and also competed on their club water polo team.
Currently Alyssa works for T-Mobile as a Salesforce Program Manager, and enjoys gaming, her dog Hobbes, and playing water polo with Master's teams everywhere she can.
Jacque Li – Girls Assistant Coach
Jacque grew up in Mercer Island, WA and started playing water polo for Mercer Island High School, also joining Northwest Water Polo Club before joining the University of Washington Women's Water Polo Club.  The team competed at the Club National Championships all three of these years, finishing in 7th twice, and then 6th in 2019.  She has previously coached Midlakes swim team for Mercer Island Beach Club and currently attends the University of Washington, where she will graduate in June 2020 before going to work for Google in October.
All Water Polo
Previous Coaches
Marco Stanchi – Boys Head Coach, Fall 2022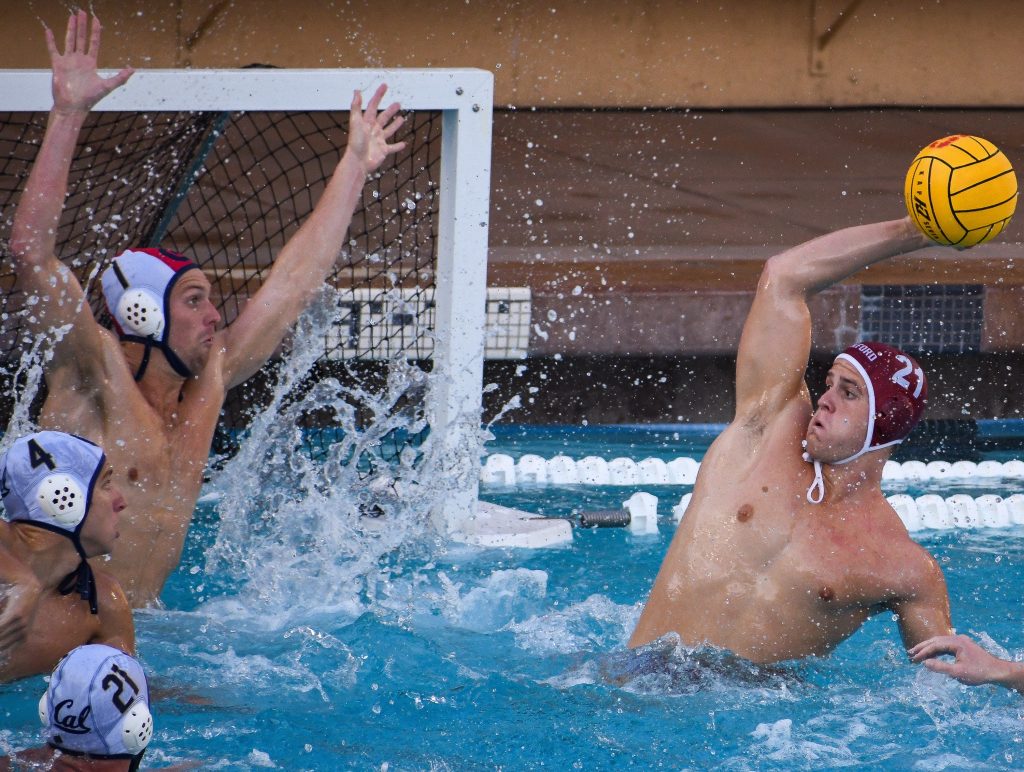 Graduating from Bellevue's International School in 2015, Marco proved his mettle as a leader on Bellevue Water Polo.  During Marco's time at Bellevue, our Water Polo program was the Washington State powerhouse, winning State Championships four years running. After graduation from International School, Marco moved on to Stanford University where he played varsity Water Polo for 4 years, competing in the NCAA Championships all while majoring in Computer Science.  After graduating from Stanford, Marco played professional Water Polo in Italy for two years. We are extremely lucky to have him as our coach this year and hopefully for many more years to come.
Zack Rossman – Boys Assistant Coach 2022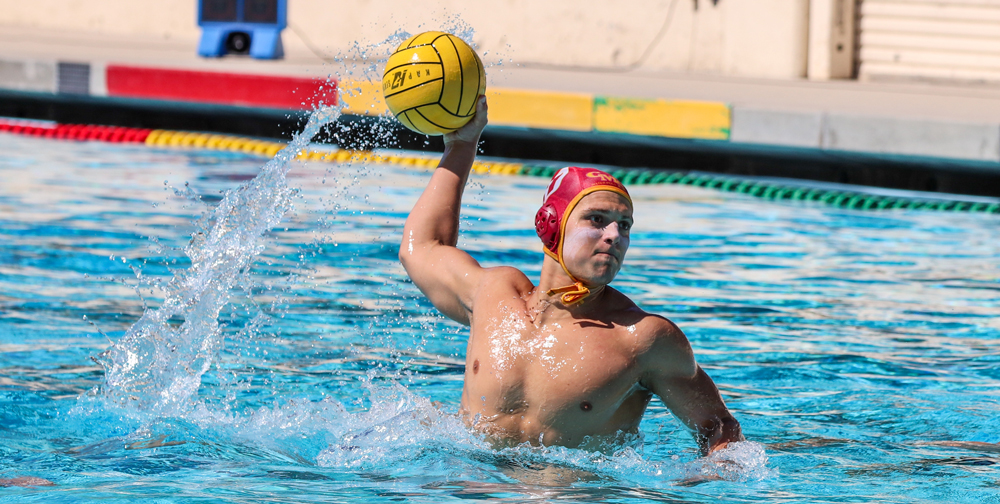 Zack is a Bellevue High School alumnus, graduating in 2016, a year after his buddy, and now colleague, Head Coach Marco.  For all four years at Bellevue Zack played polo and swam at the varsity level and helped bring the Wolverines to victory many times alongside his cohort Marco.  Zack continued in the athlete/scholar tradition of our water polo athletes by attending Claremont McKenna College  where he was again a varsity polo player all four years, eventually leading his team to a Division III NCAA Championship.  Zack, a standout player in college and high school graduated from Claremont McKenna in Computer Science.  Along with his old teammate Marco, Zack is intent on bringing Bellevue Water Polo back to the top tier of High School squads in the state.
 Jake Van Wolvelaere – Head Coach Bellevue Boys 2021 Season
Hey Jake, Please send me your bio! Doug
Matthew Mulfinger – Assistant Coach Bellevue Boys and Girls 2021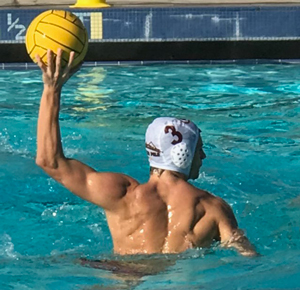 Matthew started playing water polo at Bellevue as a high school junior.  Starting to play late worked out for Matthew as his athleticism was evident as soon as he was in the pool.  Graduating from Bellevue in 2019, and with only two years of experience playing waterpolo, Matthew went on to play at Saddleback College in Mission Viejo.  Matthew carved out his niche as a left handed defensive specialist as well as the guy calling plays for the Mission Viejo offense.  in 2021 Matthew was admitted to University of Washington where he still plays club Water Polo and majors in Economics.  Look for former coach Matthew cheering from the sidelines at games this Fall season 2022.
Ed Brovick – Boys Head Coach (2006-2020)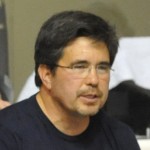 Ed Brovick provides some of the original impetus for the  Bellevue High Water Polo program, leading Bellevue boys from 2006 – 2020.  In addition to coaching the boys, Ed worked as assistant coach to the girls from 2006 to 2019.
Coach Brovick has been Bellevue's head coach since 2006.  In addition to his high school coaching duties, Coach Brovick serves as the head coach of the Pacific Northwest Zone's 8th Grade & Under Boys Olympic Development Program (ODP) team. Run by USA Water Polo, ODP is the feeder system for the US Junior National Team.
Coach Brovick grew up in San Diego, California. He played high school water polo at Hilltop High School for legendary coach Greg Ormsby. He is presently retired.
Evan Kaseguma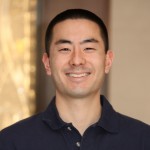 Evan Kaseguma is the former head coach of Bellevue High's boys & girls team.
Coach Kaseguma founded the BHS Boys Water Polo program in 1998 as a high school freshman and served as its assistant coach from 2008-2016. In 2013, he helped revive Bellevue's girls program, which had been shuttered for several years, and took over head coaching duties. In 2010, he founded Rain City Water Polo.
Coach Kaseguma was born and raised in Bellevue. After competing at Bellevue High School, he played Division 1 collegiate water polo at Harvard.  He graduated from Harvard in 2005, now lives and works in the Seattle area in Real Estate development.