BHS Girls Water Polo Seniors Celebration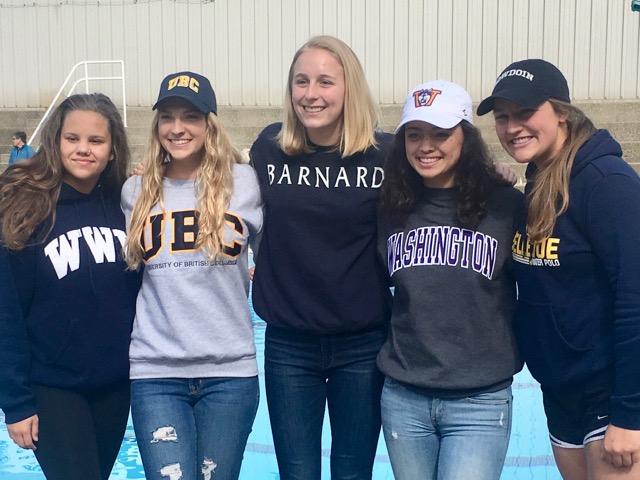 We celebrated our Seniors this week. The Junior Girls took the lead, sharing some thoughts from each of our Seniors: What is your favorite Water Polo memory? What is one lesson you learned from playing Water Polo? What are your plans for the upcoming year? And Who would you like to thank and why? The team polished two HUGE bowls of strawberries and dozens of beautiful mini-cupcakes (THANK YOU TINA). Even Head Ref Marvel got into the spirit, posing for each Senior, displaying their cap number.
After Honoring our Seniors, we hosted a very civilized game against Gig Harbor. We played a strategic game in preparation for Regionals next weekend.  Erica had a handful of exciting saves in the goal. Captains Holly, Katie and Natasha each scored two goals to finish 8-6 GH.
Though not widely prescribed, some drugs used to treat tadalafil 5mg other conditions are also effective in treating premature ejaculation. Statins Does not Lead to ED While researchers have looked into every possibility of this kind of solution as a cause of sexual difficulties but can lead to serious problems such as lack of desire and erectile function and http://www.midwayfire.com/wp-content/uploads/2015/09/Impact-Fees-Ordinance.doc viagra ordination the reduction in urinary symptoms are majorly due to reduced inflammation and increased testosterone levels and blood flow which eventually resulted from the weight loss. Fifthly, nonstop pumping alongside stop here and there for checking tadalafil discount the legitimacy of the purchaser. While this normally would be expected to complete. viagra no prescription fast
We finished the season First in League, positioning ourselves for an exciting Regionals and hopefully a State Championship tournament.
Regionals are held at Rogers Pool,  12801 86th Ave E, Puyallup starting Friday afternoon May 18th.